Alright, we're gonna say it. Content is hard to produce on a consistent basis—especially if you're starting from scratch and have no clue what to do.
That's why we all need ideas. If you're grinding 24/7 to produce content for your business, you need inspiration to keep going. After all, inspiration is the seed we plant in our minds to produce A-tier content. 
And one place inspiration can come from is other brands do it. 
So, we're highlighting some top-notch campaigns we can't get enough of—so you can get ideas for your own content marketing strategy. Below we've compiled a list of 5 content marketing examples to help you get started in 2022.
1) Coinbase Learn To Earn
How does the biggest crypto company show their customers they care for them? Is it even possible for a trading platform to do something creative?
Coinbase built an educational platform where they teach lessons, and after each lesson, users get paid a small amount such as $1 or $2. While this is not a lot, it shows them that they care about their experience and welcome them on board.  
You might wonder, how Coinbase makes a profit from giving users free money?
The answer is simple: When a user learns how to trade, they usually go on to trade thousands of dollars on their platform, and this makes them money via fees. So while they're offering them value in advance, they actually win in the long run.
2) RyanAir's Tik Tok Account
The trend this year is catchy short-form videos and RyanAir captivated the idea, all while exposing their airline to thousands of young travelers. Think about it: Most airlines are boring. You don't really expect a professional airline to start sharing memes on social media and post funny Tik Toks? 
Well, RyanAir is an exception and they've created a successful viral content strategy on the platform by creating funny videos that get millions of shares. 
In one video they use a funny eyes filter on an airplane with the caption, "When you realize that no matter how much they complain, they will always fly with you". That video alone has over 20 million views and 1.2 million likes. 
Now, the company has received record heights of free marketing thanks to the platform. And it was all seen by their target demographic of young Europeans looking for budget flights—talk about a clever content marketing example, right?
3) Apple's "Shot On iPhone" Challenge
Apple is the world's most valuable company for a reason. The company produces high-end hardware, but its marketing beats the competition. And their "Shot on iPhone" challenge, in particular,  illustrated a community marketing campaign in which they benefit in 2 ways:
They get users to create content for them.

Their product quality is broadcasted for the world to see. 
Users want to see what they can do with your product, and what better way to show that off than to run a challenge? Or to directly make the kind of videos where they can picture themselves owning the product? 
This iPhone challenge makes prospects that are on the fence about purchasing an iPhone feel better about pulling the trigger and buying one. Plus, it was a clever use of user-generated content that further connected them to their community and showed how they appreciate their customers.
4) Samsung Ads Making Fun Of Apple
Samsung and Apple's marketing teams have always had a little war. Both companies made ads making fun of the other one, and both profited in a massive way. If you do something better than your competitors, you can show that off in a funny way. 
That not only makes a product stand out, but it signals to customers that the creators are competitive—and they care about producing top-of-the-line products.
In their anti-Apple commercials, Samsung often made fun of Apple's inability to create a "full package" for customers. For example, in one video a protagonist enters an Apple store and asks for a fast charger like on their Galaxy, but the salesperson responds actually that they have to buy a USB-C converter cable and an extra fast charger. Bummer.
Naturally, Apple also fired back at these ads, and they even made fun of Android itself. In one creative commercial, they use a bookshelf as a metaphor for apps and they show how installing the wrong app can brick an Android device. 
Who really benefits from these commercials? The truth is that both companies do. Samsung now dominates the high-end Android market and Apple consistently breaks their own sales targets.
5) NY Times Games
The New York Times provides engaging content, but they realize that's not enough if they want to keep their readers staying for longer. One of their strategies to engage readers is to develop a set of games that resonate with readers.
And yup, you've heard of one of them. Games like "Spelling Bee", "Wordle", "Letter Boxed", are just a few of them.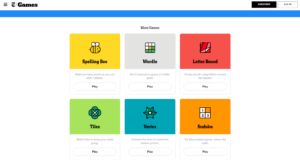 In the viral game "Wordle", a player has just 6 chances to guess a 5-letter word, and their tries reset every day. If they keep a long guessing string, they are added to a record list. It went on to become a meme itself, further bringing in traffic and new customers.
These games were strategically developed for their audience to engage them and make them spend more time on their website. So, if you really wanna try something different, think about what kind of games or entertainment activities could you create for your followers. 
Key Takeaways
At its heart, an effective content marketing strategy helps your customers by giving them value.
There is no single method to do content marketing and companies take wildly different approaches to achieve similar objectives. These objectives are to retain customers, entertain them, and give them value.
Think about your unique position and how you could engage your customers in a way that stands out. Write that down. Now use that information as the foundation of your content marketing strategy.
With ScaleUpSales, we know how to drive engagement and generate leads across all your outbound marketing channels. Contact us today to see what we can do for you!