Cold outreach is one of the oldest and longest-standing methods of reaching possible clients, and LinkedIn and cold emails are two of the most-used strategies to generate leads and raise awareness.
Should you prioritize old-school, tested-and-proven cold email marketing? Or should you place your bet on the platform that has recently gained B2B popularity, LinkedIn? 
Don't waste resources on a platform that's not right for you. Choose the best option for your company or a combination of the two because effective outreach campaigns cover both. Let's get started.
Overview of LinkedIn Outreach vs. Cold Emailing
For a direct comparison between LinkedIn Outreach and cold emailing, here is a chart from MailChimp with key criterias like bounce, subscription, open, and click-through rate:
Source: MailChimp
LinkedIn may be the clear winner for initial prospecting—finding and engaging with your ideal customers. But it doesn't mean you shouldn't include email in your outreach strategy, because the tried-and-tested approach still covers more ground than LinkedIn. Let's get into the details.
LinkedIn Outreach
LinkedIn Outreach is the strategy of connecting with new customers and partners using LinkedIn. Given that the platform has nearly 850 million members worldwide, it's an excellent place to grow your network and (more importantly) reach out to new B2B prospects.
LinkedIn Outreach is characterized by three primary factors:
Mass Prospecting

: Similar to sales prospecting; you must contact many people in your target audience to succeed with LinkedIn Outreach. You can contact them with bulk LinkedIn invites and manage every part of the process on the platform.
Targeting:

As with any cold outreach strategy, laser targeting is key. You can send messages directly to your ideal prospects on LinkedIn Outreach by narrowing them down based on relevant companies, job descriptions, and locations.
Personalization:

Related to targeting, you'll have to send personalized messages to your audience. LinkedIn Outreach allows you to send custom messages for your outreach campaign to be more effective.
Since 80% of B2B leads originate from LinkedIn, it has emerged as the leader in B2B prospecting. However, when it comes to outreach, companies are hesitant to declare that LinkedIn InMail has exceeded its predecessor, email.
Before you choose, consider how expensive it would be for your company, correct? Unlike email, a cost-free method of communicating with your leads, LinkedIn InMail is a paid tool.
Purchasing a yearly Sales Navigator account is the most affordable choice. You will pay $1.6 for each InMail for $79.99 per month for 50 InMail credits.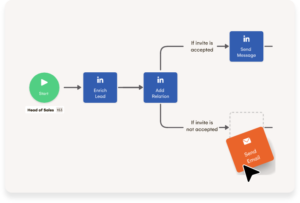 Source: La Growth Machine
The Advantages of LinkedIn Outreach
Nearly every person in the workforce is on LinkedIn. So it's a world of possibilities for B2B connections.
Out of the 850 million people signed up on LinkedIn, more than 134 million users use the platform daily, and more than 48% of LinkedIn users browse through the website monthly. Moreover, LinkedIn is used by 92% of Fortune 500 companies, and 25% of its users are senior-level influencers.
LinkedIn's popularity as a cold outreach platform shows no signs of fading. As per the LinkedIn Pressroom, it gains two new members per second. That's almost 70 new members by the time you finish reading this article!
The Drawbacks of LinkedIn Outreach
You're not the only business that uses LinkedIn for lead generation and development. As the number of individuals utilizing the platform grows, so does the number of businesses using it for outbound communication, including the niche market you're playing in.
The LinkedIn outreach competition is high. So, your LinkedIn Outreach approach and strategy need to be good enough to distinguish yourself from the crowd and get the attention of your prospects. Precision is key in targeting your audience.
Given the competition, prospecting on LinkedIn won't give you overnight success. It can provide rapid returns in certain cases, but most situations require massive effort and patience to make it work.
Cold Emailing
Cold emailing is the strategy of emailing a person you've never conducted business with.
Email marketing delivers a $44 ROI for every dollar spent, and eight out of ten prospects prefer to communicate with sales representatives by email—that's good business through good ole' email!
However, following up is a long process with email, and landing a purchase takes days. Only 3% of your market is constantly buying at any given moment; 56% are not ready, and 40% are about to start. Every day, the typical individual clears 48% of the emails they receive, and only a quarter of marketing emails are opened.
Still, the old-school platform has an upper hand, allowing it to stay on top while other social sites struggle to stay afloat in the ever-changing algorithmic tide. Email isn't going anywhere—global traffic reached 333 billion emails daily in 2022 with no signs of slowing down.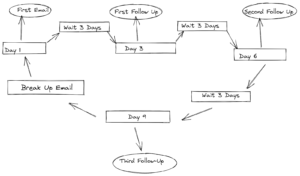 Source: Sales Bread
The Advantages of Cold Emailing
Cold email is an excellent and crucial tool for all companies, where the advantages are especially evident in small businesses. The stats report that 89% of marketers said email is their major lead generation strategy because it's inexpensive, scalable, and successful. 
Here are four key reasons why cold emailing is important:
Networking:

Similar to LinkedIn, you can expand your network via email. Unlike LinkedIn, however, your prospect only needs an email address for you to reach them. And with

more than 4 billion

email users worldwide, your prospect is bound to have one they check regularly.
Targeting:

The biggest benefit of cold emailing is that it's highly focused, where you're only targeting people who are already interested in your service, like current or previous clients. You can also track if and when the recipient opens your email to improve your strategy further.
Scalability:

By using third-party tools and working with agencies, email lets you start and continue your cold outreach strategy

at scale

. You can also customize each message to take advantage of your huge space—that's incredible compared to LinkedIn's tiny message box.
Cold emailing is the unrivalled tool of sales enablement. And with the number of techniques and tools available in the market to boost its effectiveness, cold emailing is ideal for anybody seeking lead generation and customer engagement. 
The Drawbacks of Cold Emailing
The biggest disadvantage of cold emailing can be summarized in one word: spam. Once your email gets categorized as spam, there's no way you can return back to the recipient's inbox. You'll have to learn to avoid that deadly pitfall to ensure better delivery and open rates.
Moreover, since you have more space with an email than a LinkedIn message, you might get carried away with saying too many things at once. You'll have to learn how to write the perfect cold emails to ensure that your cold outreach strategy works as it should. Things can snowball and head in the wrong direction quickly—from the email subject line alone. 
Statistics show that LinkedIn InMail appears to be more promising than Email. The average open rate for emails is 21.6%. However, LinkedIn may get you open rates of 57.5%. For LinkedIn messages, the number of responses ranges from 10 to 25%, but for emails, it might range from 1 to 10%.
The Verdict: Which Approach is Best for Cold Outreach?
Both LinkedIn Outreach and email have advantages and disadvantages. Either platform can win your outreach wars, but it depends on your tactic preferences and marketing objective. Remember: Your goal is to develop a sales cycle that sets you up for growth.
Fed-up trying to figure out whether LinkedIn Outreach or cold emailing is best for your business?
ScaleUpSales is your partner for generating qualified leads and converting them into customers. We are experts that'll fuel your sales teams with opportunities and solutions across the entire sales process—cold email and LinkedIn Outreach included. Get in touch!