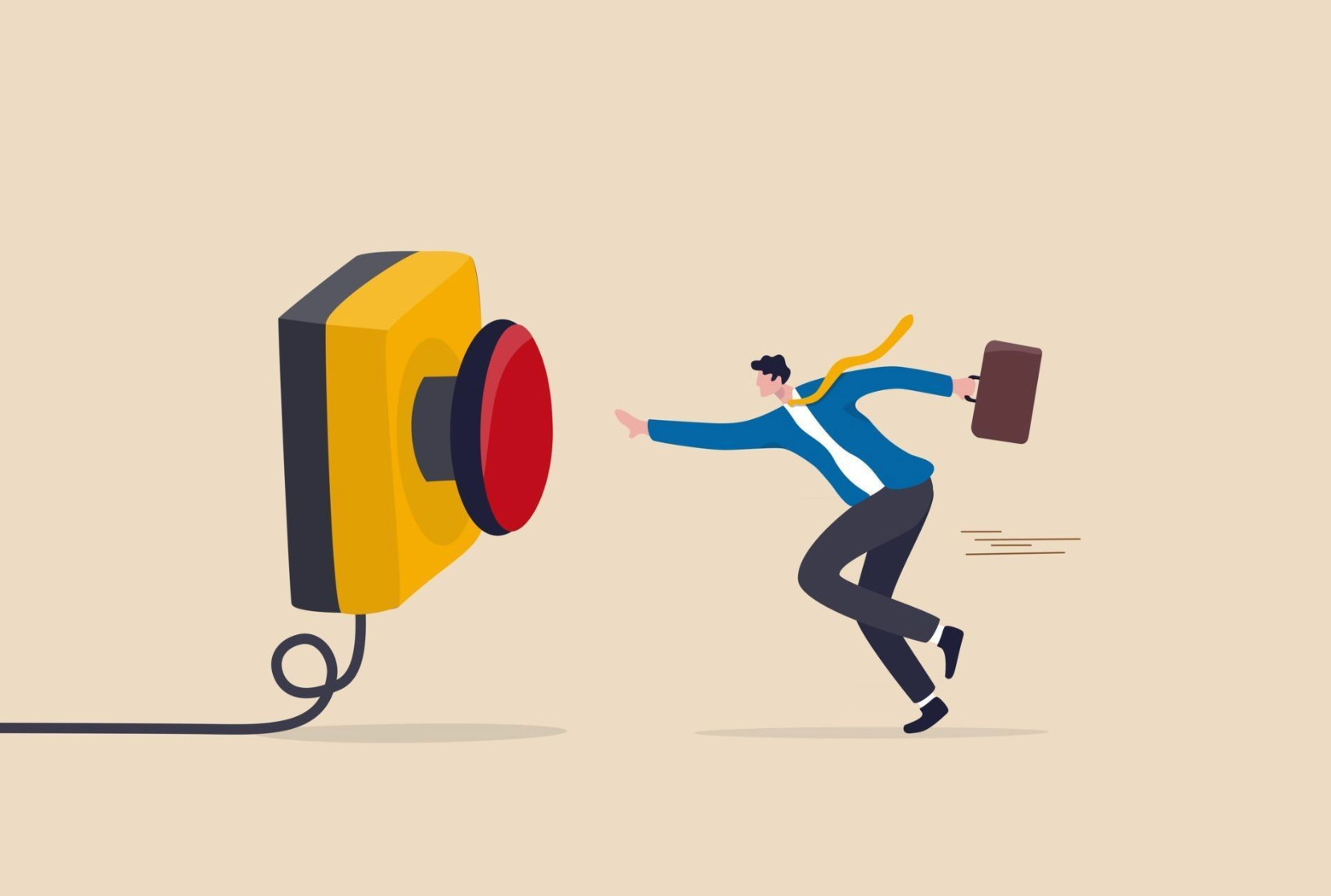 If you want your marketing efforts to convert to sales, be it on a website, email, social media post, or anywhere else, you need to tell the prospect exactly what to do next.
While the opening headline is the single most impactful factor in whether someone reads your marketing copy at all, the absence of a strong call-to-action (CTA) will leave your prospects at a dead end with no option but to leave without converting.
The CTA is a simple, direct instruction for your reader. You made it this far? Great, now do this!
Let's break down what goes into a strong CTA that converts to enquiries and sales.
#1 A strong CTA stands alone
Imagine each piece of copy as a soldier that has one job to do. Ideally, that soldier would command your reader to buy the thing you are selling right here and now. And sometimes, that's exactly what the soldier does. This is the huge "BUY NOW" button on the website or the link in the email sequence that asks for a meeting.
Now imagine the soldier is commanding your reader to book a meeting, buy now, download your eBook, sign up for your email newsletter, and to read the next article in the series all at the same time. The soldier has presented the reader with a decision, not a command. Decisions cause mental fatigue. If you give the reader too many options, they'll likely take none of them, and you'll see higher bounce rates and lower conversions.
Wherever possible, you want one singular CTA that leads to a meeting or sale, or the very next step required for the prospect to advance in your sales process. Most commonly, this is an exchange of contact details to enable further communication.
If the buyer isn't quite yet ready to buy, you can offer a transitional CTA. This should offer something beneficial and solves a problem for the prospect in the form of a lead magnet or ethical bribe. You are asking the customer to give something (their contact details) in exchange for something of perceived value.
#2 A strong CTA is authoritative
Continuing the soldier analogy, your CTA needs to act like a soldier, too. That means barking orders, not asking someone politely. This is the battlefield of business, buy or die!
Try
Start
Download
Get
Gain access
Get started
Order
Reserve
Join
Direct commands. Append these commands with words like "now" and "today" to add urgency.
Compare the above commands to the following phrases:
"Please fill in our contact form" – Okay but what's in it for me?
"Learn more" – Didn't I just read all this stuff? Now I need to click to read even more?
"Click here for more information" – Why? What will happen next?
"Would you like to ____"?
These are weak. No questions. No ambiguity. Just orders.
#3 A strong CTA is brief
Consider the following examples:
Schedule a free consult
Fill in our contact form and we'll get back to you to discuss your requirements
Which of these would look better on a button? The first option is the obvious choice, because it paints the picture of what will happen next in the prospect's mind with fewer words. It respects the prospect's time.
#4 A strong CTA highlights benefits
While you do want brevity in your CTA, you can also highlight benefits.You could simply state the benefit in your CTA:
"Increase your monthly revenues by 20% in the next 60 days"
You can make this stronger by adding in a first person perspective with your CTA:
"I want to ______"
"I want to increase my monthly revenues by 20% in the next 60 days"
#5 A strong CTA is prominently placed
Following on from the last point, a brief CTA allows for larger text, which makes it stand out from the rest of the copy. Now you need to place it in an easy to access spot.
Just do this: put your CTA in the top right hand corner of your website. It should always be visible. Now, put the same CTA in your header above the fold.
#6 A strong CTA is in contrast to everything else on the site
A CTA should stand out. You can achieve this with color by using one color for CTAs only. Got black and blue text on a white background? A red CTA button will stick out like a sore thumb, which is exactly what you want.
#7 A strong CTA is repeated
One is not enough! If the prospect didn't click on the CTA in the header, they're going to scroll down to seek more information on whether this is the right solution for them. Give them what they want in the copy. But then, hit them with the CTA again!
Depending on the length of your copy, you may need to repeat this several times down the page. Repetition helps cement to the reader that this website exists for one sole purpose. Either click the damn button or get off the website.
#8 In cold outreach, the rules are a little different
With websites and email campaigns sent out following active sign ups, the prospect is actively seeking information to try and solve the problem they are having. By them clicking on your material, they are giving you permission to demonstrate value.
In cold email or LinkedIn outreach, you are jumping into someone's work inbox uninvited and asking them for something. In much the same way as you wouldn't initiate a request for a first date by inviting them to your bedroom, your first contact with a prospect via cold outreach should be more probing and inquisitive.
Brief intro to establish who you are. Possibly note point of mutual connection for rapport building.
Succinct value proposition. Who you help and how.
CTA – this could be a request for what you want immediately, whether it be a meeting, information from the prospect, or something else.
Nothing else.
When you send someone an email out of the blue, you don't want to confuse them about what you want because you might not have their attention span for as long as you think. Make it easy for them to convert by being direct with your CTA, but also polite.
That also means when you ask for a meeting not to send them a calendar link in a cold email. It's impolite and presumptuous. Let's ask what works for them and basically for "permission" before sending over something like that.
Conclusion
Weak CTAs break your marketing, confuse and frustrate your prospect, and result in no action being taken to progress towards a sale.
Strong CTAs give your prospect a clear and obvious pathway to follow, which has been proven to result in higher conversion rates.